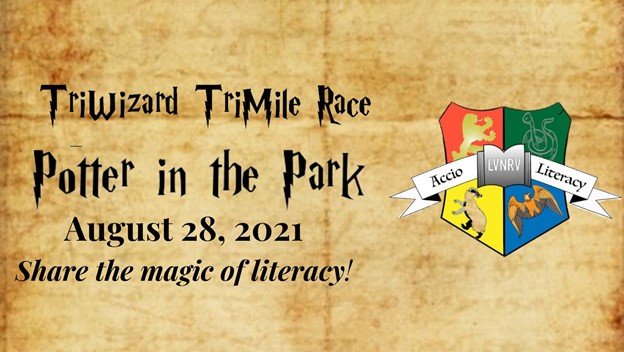 Saturday, August 28, 2021 – 8:00 am to 12:00 pm
Event by Literacy Volunteers of the New River Valley
Bisset Park
23 Berkley Williams Drive
Radford, VA
Calling all wizards of Gryffindor, Hufflepuff, Ravenclaw and Slytherin! Do YOU have the courage, strength and power to conquer the Potter in the Park 2021 Triwizard TriMile Race?
TIME TO VENTURE OUT FROM THE CUPBOARD UNDER THE STAIRS! WE ARE PLEASED TO INFORM YOU THAT YOU ARE INVITED TO HOGWARTS SCHOOL OF WITCHCRAFT AND WIZARDRY'S TRIWIZARD TRIMILE RACE!
Run, walk, apparate, or fly 3 miles through the wizarding world of Bisset Park in Radford, VA on Saturday, August 28 (Hogwarts Move-In Day)! (Or be a virtual runner using an invisibility cloak!)
GOOD FUN FOR A GOOD CAUSE! You don't have to rob Gringott's bank to participate in all this Potter fun! Wizard race entry fee is $25, 4 Wizards are $80. Better bring your magical creature to protect you in the Forbidden Forest — $10 for beasts! Great prices for a great cause! All proceeds help local adults learn to read!
For more information and to register, click HERE
Photo Credit: facebook.com