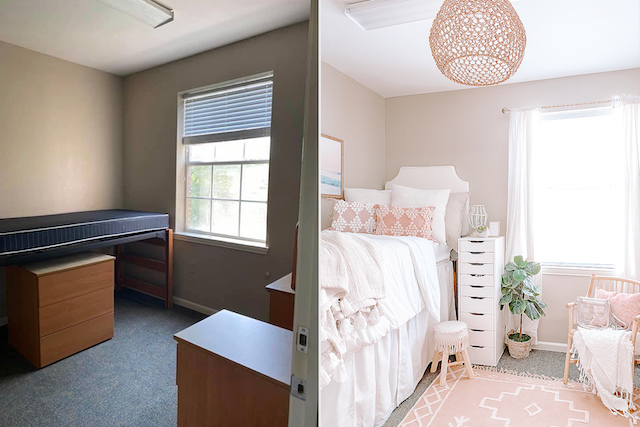 Do you have a recent high school graduate preparing to head off to their first year of college? If so, chances are you are shopping like crazy to outfit their dorm room. Dorm rooms serve more purpose than just a place for sleeping at night. They are a hub for many activities from studying, to socializing, to relaxing, and yes, to getting a good-night's rest. Taking all of that into consideration, it can be challenging to create an aesthetically pleasing space that is also functional when you will likely be working with a small, bland room that resembles a cement box. Don't worry, we've got you covered.
Here are some tips for creating a dorm room that is both functional and fabulous:
STORAGE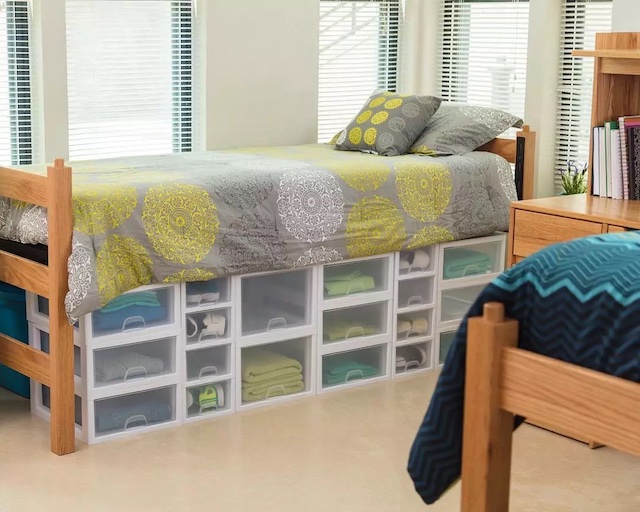 When living in a small space, finding storage options is one of the most important aspects of creating a functional habitat. There is a plethora of unique storage places in dorm rooms, including under the bed. Many dorms offer the option of lofting the beds they provide. Doing this provides ample space for storage beneath. Get some neutral-colored bins and/or baskets that will slide easily under the bed where you can keep clothing, shoes or any other items that don't need to be sitting out in the room all the time. If you don't want the under-the-bed storage to be visible, consider using an oversized comforter (for example, by a queen size comforter for the twin XL bed), so that it will come down over the side and hide what's beneath. 16 Dorm Room Storage Ideas for the Most Organized Room Ever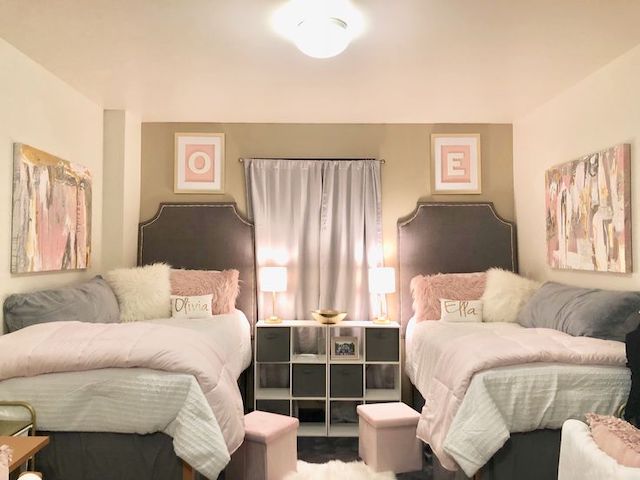 A drab, sterile concrete wall just does not give a cozy vibe. And if you have ever tried to hang anything on cinder block walls with command strips or adhesive, you already know that they don't work very well. So, how do you create a cool, comfy look for your dorm room? Try a curtain! They're not just for windows! Use an extendable curtain rod and hang an attractive curtain that adds a pop of color to an otherwise lackluster room. If you are lucky enough to have walls that adhesives work on, you can decorate the walls with anything like art, temporary wallpaper, tapestries, and posters.
A small room filled with clashing colors and patterns can feel chaotic and stressful. So, it's a good idea to talk to your roommate before moving in to coordinate on the theme for your room. You don't have things that perfectly match but having colors that complement each other definitely makes the room more aesthetically pleasing. I suggest choosing tranquil, relaxing colors that will lend to a peaceful atmosphere. How to Choose a Dorm Color Scheme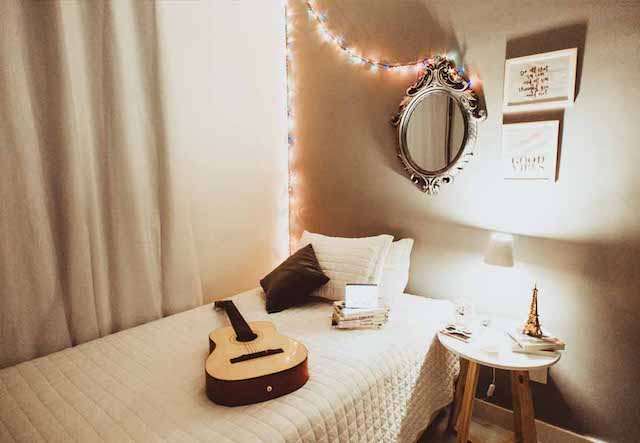 Remember, this isn't just a room to sleep in. It's a room to LIVE in. That being said, you will want it to be as cozy and inviting as possible. It's especially important that you are comfortable where you study. That means creating a desk space that includes functional items like a lamp and organizational drawers, but also personal touches like artwork, a vision board, and special photos. Be sure that your desk chair is one you will feel good sitting in for long periods of time. How to Make a Vision Board
MAKE YOUR BED AS COMFORTABLE AS POSSIBLE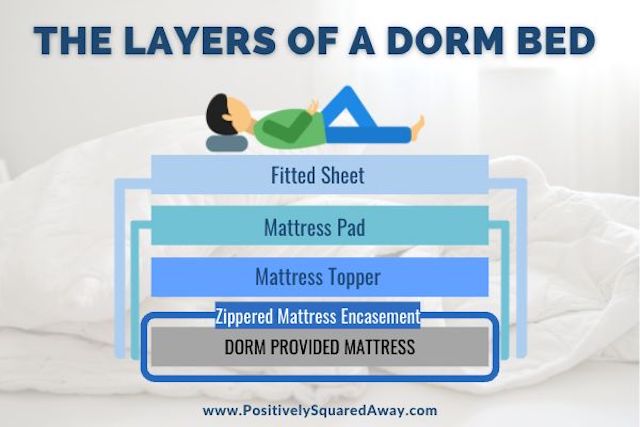 Sleep is so important for both your physical and mental health. You will not sleep well if your bed is uncomfortable. The mattresses provided in your dorm room are not exactly luxury quality. So, don't hesitate to invest in quality bedding. Layers are the way to go. First, a cover that zips completely around the mattress, then a memory foam mattress topper to add comfort, then a waterproof mattress cover to protect everything beneath. Keep in mind that you will need a deep pocketed fitted sheet to fit over those layers. I suggest using an oversized comforter at least one size up from the size of the bed. Many dorm beds are twin xl and they do make all these items in twin xl size, but a full or queen comforter will work well and can be used again when you are no longer living in the dorm and have a larger bed. Be sure to look on the school/dorm website to find out what size beds the dorm has.
These are just a few tips for creating a functional and fabulous dorm room. Check out this list of "Dorm Must-Haves" for more ideas! Dorm Room Essentials
Are you thinking of buying a home or selling your current home in New River Valley, VA? Then it is time to contact Desi Sowers, your New River Valley, VA real estate resource! Give her a call today at 540-320-1328!
Photo credits: people.com, extraspace.com, minto.com, pinterest, nytimes, positivelysquaredaway.com