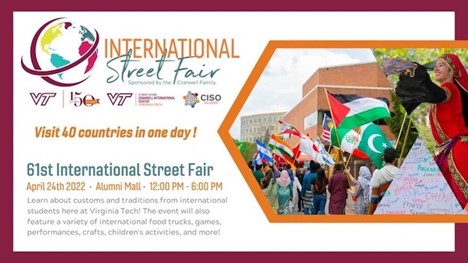 Sunday, April 24, 2022 – 12:00 PM to 6:00 PM
Alumni Mall – Virginia Tech
Come and experience 40 countries in one day!
The 61st International Street Fair at Va. Tech will allow you to learn about customs and traditions from International Students while watching skillful dancers transport you to countries with music and beautiful traditional wear. There will be interactive presentations from international groups, traditional games, arts, crafts, and other items available for purchase from the students. Be sure to come hungry and taste the delicious food provided by an assortment of international food trucks that will be on site.
International Street Fair will begin with a procession of nations. Representatives from each participating student organization will carry the flag of the country their organization celebrates.
Click HERE to see the food options and entertainment that will be at the street fair!
Photo Credit: allevents.in