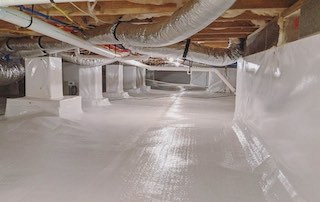 Encapsulating your house.
It sounds a little bit like science fiction, but crawl space encapsulation is the best way to improve indoor air quality and to make your home more energy efficient. People didn't pay too much attention to crawl spaces in the past, but that is changing as we become more educated about the negative impact excess moisture can have on your home.
Keeping in mind that up to 50% of household air can flow up from your crawl space, it is vital that the space is kept as clean and dry as possible. Because water vapor enters the crawl space from the ground, the new trend for homeowners is to have the crawl space encapsulated to keep the moisture out.
So, what is encapsulation?
Encapsulation is a "lining" for your crawl space made from a strong polyethylene barrier. It completely covers the entire crawl space including the floors, foundation walls and sometimes even the ceiling. Once the space is completely sealed, a dehumidifier is added to help regulate the crawl space's moisture level. The combination of the barrier and the dehumidifier join to protect your home from excess moisture and the issues that come with it.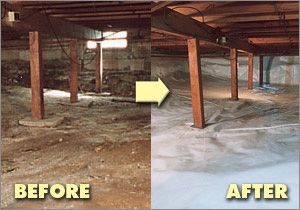 Still not sure that you need to have your crawl space encapsulated?
Here are some signs that moisture might be creating a problem for your home:
mold, mildew/musty smell
soft or separating floors
high cooling costs
wet insulation
sweating windows
insect problems
Now consider the benefits of adding a vapor barrier to your crawl space:
improved air quality
making pests and wood-destroying insects unwelcome
increasing comfort in your home
avoiding mold issues and structural damage
greater energy efficiency
You may even notice that your allergies improve after encapsulation.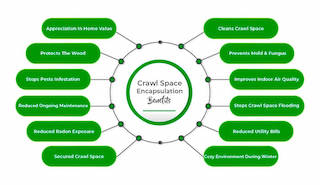 If you live in a home with a crawl space that has not been encapsulated, do your homework, and find a professional company to get the job done. It is an investment that will surely pay off in the long run!
Are you thinking of buying a home or selling your current home in New River Valley, VA? Then it is time to contact Desi Sowers, your New River Valley, VA real estate resource! Give her a call today at 540-320-1328!
Photo Credits: pinterest.com, fixmyfoundation.com, ratslab.com