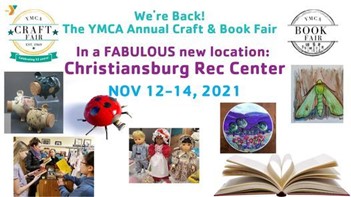 Friday, November 12, 2021 – 12:00 PM to 7:00 PM
Saturday, November 13, 2021 – 10:00 AM to 6:00 PM
Sunday, November 14, 2021 – 1:00 PM to 5:00 PM
Location: Christiansburg Recreation Center, 1600 N Franklin St, Christiansburg, VA 24073
IN-PERSON CRAFT FAIR IS BACK!!
The 52nd annual YMCA Craft Fair will take place LIVE and IN PERSON this year!! The event is scheduled for November 12-14, 2021 and will be located inside a fabulous new venue- The Christiansburg Recreation Center!
And what's better than our awesome Craft Fair? How about adding our annual Book Fair? Combine the two to make one great big fantastic event!
Annual Book Fair!
Among the many volumes of books that will be available in our annual Book Fair there will be a collection of books of local origin, authors and interest. We'll have literally thousands of books for you to peruse at the very best prices around, so get ready!!
All booths will be socially distanced. Masks are recommended.
Click HERE to check out the Artisans who will be participating this year!
Photo Credit: allevents.in