It's Fall y'all!  'Tis the season for cozy blankets, warm apple cider, pumpkin spice everything and the gorgeous colors of fall foliage. If you are lucky enough to live in the New River Valley, you already know what a perfect place it is to experience the splendor of fall. With leaves of crimson, orange, and gold abounding, you will want to spend all your time outdoors taking it all in. But you don't have to limit yourself to enjoying fall leaves outdoors…you can bring them into your home to enjoy as well. So, get ready to get your craft on and create some fabulous fall home décor!
Here are six fun and festive ways to decorate with fall leaves: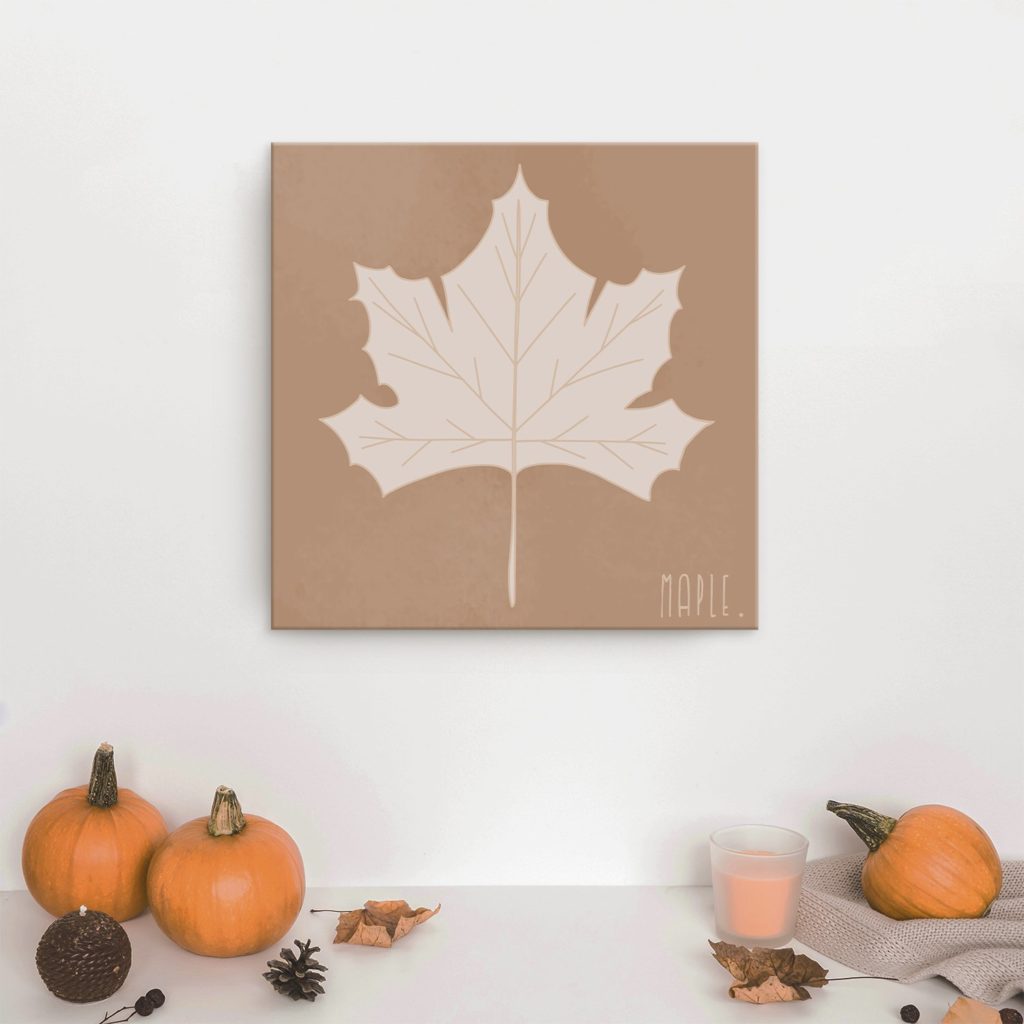 Create Wall Art with Prints of Fall Leaves
This project doesn't require actual leaves. Perhaps you want to incorporate fall leaves into your décor without bringing them in from the outdoors. In this case, you can simply print off pictures or photos of leaves to display in frames on your wall. A fun project for you and/or your kids is to print off outlines of leaves that you can paint or color.
Check out this link for free fall leaves printables: https://www.printablee.com/post_fall-leaves-printables_12603/.
For a more elegant look try something like this: Elegant Fall Printable
Make a Leaf Banner for Your Mantel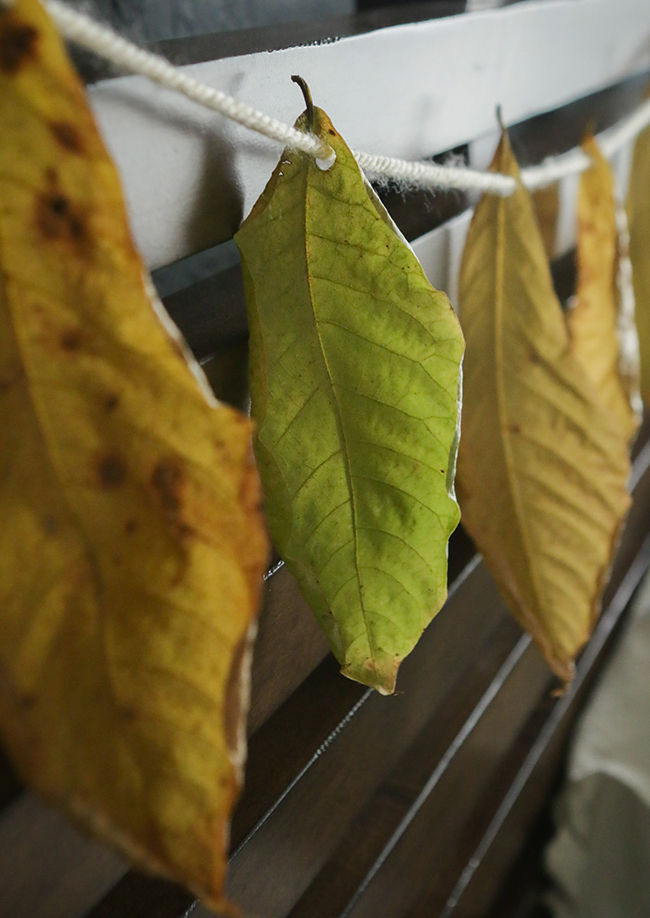 Using fall leaves to make a mantel banner is a fairly easy project. But if you plan to use real leaves for this project, you will need to preserve them first. Once you have done that, all you will need is some string, twine or yarn and a way to hang the leaves. It can be as simple as using a hole puncher to punch holes in the leaves so that you can weave the string, twine, or yarn through them. If you're a little craftier you could paint clothes pins and attach the leaves using them.
Use a Leaf Bundle to Create a "Bouquet"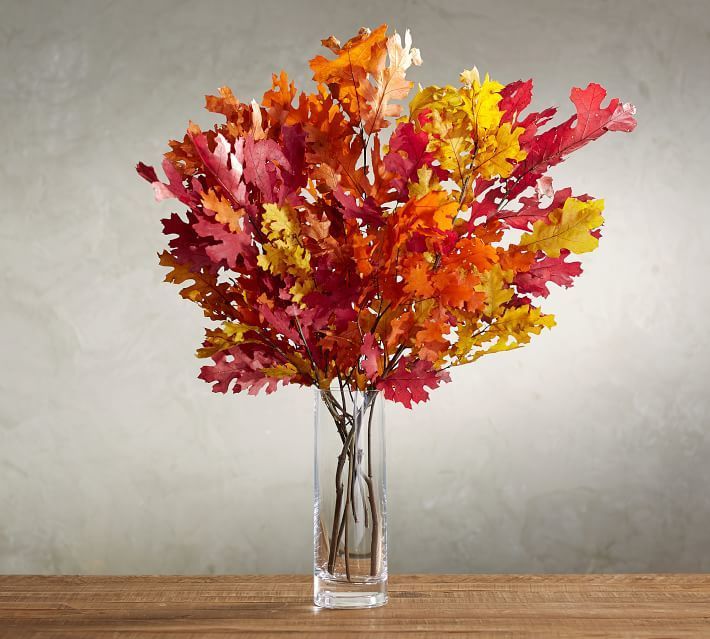 For this project, you will need to clip some branches with leaves (or buy some imitation branches at the craft store). Again, if you are using real leaves, you will need to preserve them (see link above) or they will dry and drop off the branches just like they do outside. Grab your favorite vase and bunch the leaf branches together for a lovely fall bouquet!
"Glam Up" Leaves with Glitter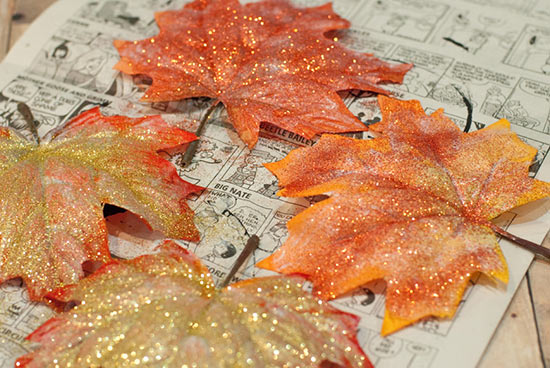 If you want your leaves to really sparkle, "glam them up" with glitter! Add some glitter to your bowl of mod podge and then coat each leaf with it. The leaves will become stiffer and glitterier with each layer of mod podge that you add. The leaves will look best if you use glitter colors that match the colors of the leaves. You can use these sparkly beauties to create all kinds of décor from banners to wreaths to table centerpieces.
Press Leaves to Create a Fall Collage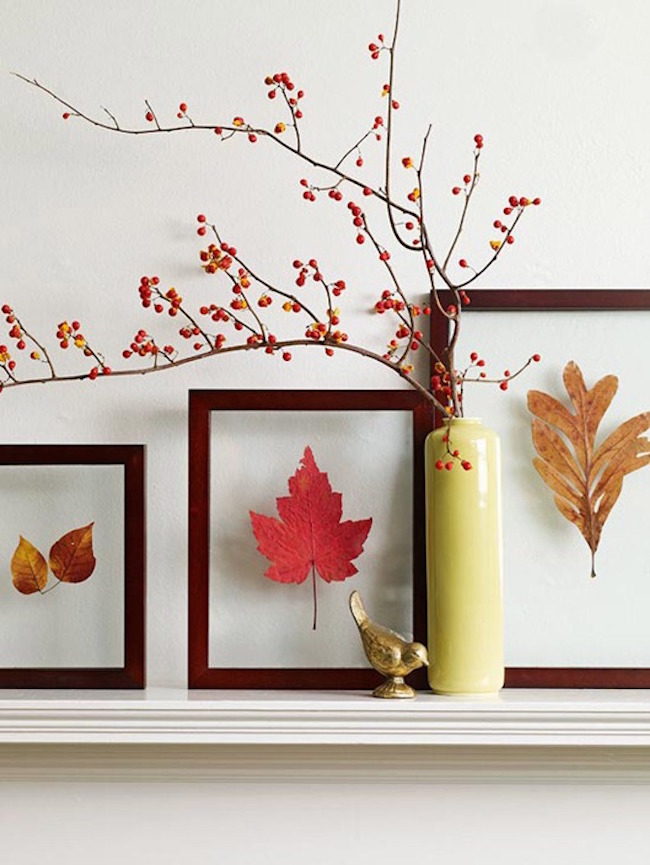 Pressed leaf art allows you to create one-of-a-kind pieces using beautiful leaves you find in nature. For an aesthetically pleasing look that focuses on the leaf, keep your frames and backgrounds simple to limit distractions. Make more than one framed collage to create a grouping on the wall. Use frames of the same size and hang them in rows or use different sized frames for a more eclectic look. Be sure your leaves are completely dried and pressed before putting them in the frame. Pressing Leaves for Home Decor
Use Leaf Prints for Fall Inspired Projects
Leaves make great stamps and there are so many things you can use them for to add to your fall décor. You can use them on things like tea towels, pillow covers, placemats and more. The options are endless. When using leaves as stamps, be sure to use varying sizes and shapes. Depending on the look you are going for you can choose a symmetrical pattern or you can simply scatter them randomly. However, when stamping them, always have the bottoms of the leaves facing downward so they will look like they are falling.
Whether you are crafty or not, these fall leaf projects are simple and will bring those glorious autumnal colors indoors to spice up your home décor for the season!
If you're thinking about buying or selling a home in the New River Valley area, contact professional, experienced Realtor Desi Sowers and let her assist you with all your real estate needs. Give her a call today at 540-320-1328!
Photo credits: molliepop.com, pinterest.com, factorydirectcraft.com, decoist.com