May 30, 2021 @ 1:30 pm – 6:00 pm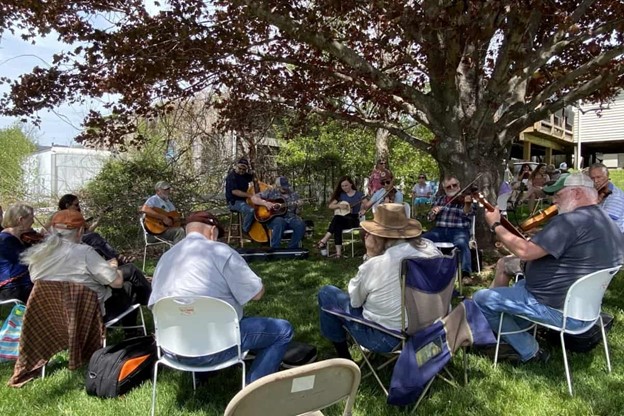 Join us behind the Floyd Country Store every Sunday afternoon for the Sunday Music Jam. The jam is open and free for everyone. All outdoor events are weather permitting.
Old Time Music Jam: 1:30-3:30pm
Bluegrass Music Jam: 4:00-6:00pm
One of our very favorite events here at The Floyd Country Store are the Sunday Old Time & Bluegrass Jams. Historically, folks from near and far would fill a big circle at the back of the store to play in jams led by local musicians. Dancers waited for good fast tunes to flatfoot to, and slow tunes for country two-stepping. These dancers would fill the inside of the circle, and the energy in the store was always friendly and vibrant.
After over a year of not being able to host these jams inside, we are so pleased to welcome the old time and bluegrass jams to the backyard behind the Floyd Country Store (weather permitting). Bring an instrument and play with us, dance along, or just come out and enjoy an easy-going afternoon of music under our beautiful shade tree!
Photo Credit: floydcountrystore.com