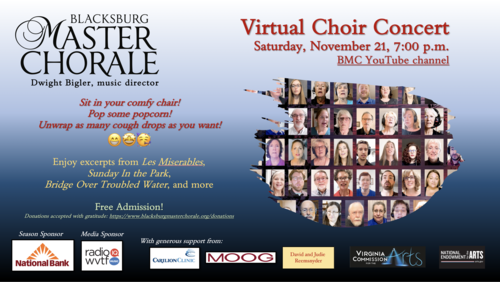 Blacksburg Master Chorale presents their Fall 2020 Virtual Performance on Saturday, November 21, 2020, 7:00 PM-8:30PM on their YouTube Channel.
Music Director Dwight Bigler and the Blacksburg Master Chorale present our first ever virtual performance. This virtual performance features Blacksburg Master Chorale members singing four pieces from the comfort of their homes!
Enjoy excerpts from Les Miserables, Sunday In the Park, Bridge Over Troubled Water and more!
To watch visit their YouTube channel
Information and Photo provided by Blacksburg Master Chorale